Polar FT4 Heart Rate Monitor
The Polar FT4 heart rate monitor shows when you are improving fitness based on your heart rate. This design is for those wanting to keep their fitness training simple.
The FT4 counts your calories as you exercise and uses a graphical ZonePointer to help you stay on the desired training zone.
Body measurement features
Automatic age-based target zone – bpm / %
To help you train safely and effectively, the training computer automatically determines your heart rate target zone limits according to your age-based maximum heart rate (220 minus age). The limits are determined either in beats per minute (bpm) or as a percentage (%) of your maximum heart rate. See also Manual target zone.
Average and maximum heart rate of training
Heart rate – bpm / %
Heart rate is the measurement of the work your heart does. Heart rate can be expressed as the number of beats per minute (bpm) or as a percentage (%) of your maximum heart rate.
HR-based target zones with visual and audible alarm
You can define your target zones for a training session based on heart rate to help define the right intensity. When you are out of the preset zones, the training computer will give a visual and audible alarm.
HRmax (user set)
Manual target zone – bpm / %
This feature enables you to manually enter the target zone that is suitable for your training. You can set the target zone for your training as beats per minute (bpm) or as a percentage of your maximum heart rate.
Polar OwnCal® – calorie expenditure
Polar OwnCal calculates the number of calories burned during training. This feature allows you to track the calories burned during one training session and cumulative calories burned during several training sessions.
Polar OwnCode® (5kHz) – coded transmission
Coded heart rate transmission automatically locks in a code to transmit your heart rate to the Polar FT4 heart rate monitor (training computer). The training computer picks up your heart rate from your transmitter only. Coding prevents interference from other training computers.
Recording features
Totals
Totals includes your training data starting from the last reset enabling you to follow your long-term training. Training files (with summaries) – 10
Training features
Graphical target zone indicator
This feature points out graphically on the display the zone you are in during a training session helping you to stay on the desired intensity zone.
HeartTouch – button-free operation of wrist unit
When HeartTouch is on, different training information during training can be accessed without pressing buttons, for instance, when gloves make pressing buttons difficult, by bringing your training computer close to your transmitter.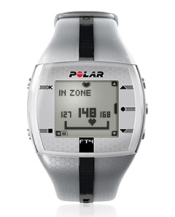 Watch features
Backlight
Date and weekday indicator
Display text in English, German, Finnish, Swedish, French, Portuguese, Spanish, and Italian
Dual time zone
KeyLock
By activating KeyLock, training computer buttons are locked, and accidental presses do not cause problems, for instance, during training.
Low battery indicator
Time of day (12/24h) with alarm and snooze
User replaceable battery
Water resistant – 30m
Much more than the Polar FT4 heart rate monitor found on the home page